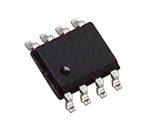 AT93C46DN-SH-B
brand:

Microchip Atmel

Packaging:

Tube

Lead-free status/ROHS:

Lead-free

Seller:

科通芯城自营
Description:

1-Kbit Microwire-compatible 3-wire Serial EEPROM

Packaging:

SOIC 8S1 8

Category:

EEPROM
| Parameter | Value |
| --- | --- |
| Interface Type | 3-WIRE |
| Density | 1Kb |
| Organization | 128 x 8 or 64 x 16 |
| Operating Voltage (Vcc) | 1.8 |
| 速度 | 250kHz, 1MHz, 2MHz |
| 存储器格式 | EEPROMs - Serial |
| 接口 | 3-Wire Serial |
| 存储器类型 | EEPROM |
| 存储器大小 | 1K (128 x 8 or 64 x 16) |
| 工作电压 | 1.8 V ~ 5.5 V |
| 工作温度 | -40°C ~ 85°C |
The Atmel 1 Kbit three-wire serial EEPROM with user-selectable memory organization at either, 128 words of eight bits each or 64 words of 16 bits each. The EEPROM is optimized for industrial and commercial applications where low-power and low-voltage operations are essential. The EEPROM is available in a variety of space-saving packaging options at 1.8 (VCC = 1.8V to 5.5V). The three-wire serial interface consists of a data input, output, and a shift clock. All programming cycles are completely self-timed, and no separate erase cycle is required before write.
Datasheet
No.
PDF
Description
1
文档(Document)

AT93C46D Complete
(文件大小: 519930, 21 页:, 修订 F, 更新: 01/2008)


1Kbit, 3-wire Bus Serial EEPROM, supports x8 or x16 data format memory organization.
ApplicationNote
No.
PDF
Description
1
文档(Document)

Serial EEPROM Interface Protocol
(文件大小: 111427, 6 页:, 修订 A, 更新: 06/2008)


Selecting the Best Serial EEPROM Interface Protocol for your Application
Brochure
No.
PDF
Description
1
文档(Document)

Atmel System Peripheral and Memory Products Brochure
(文件大小: 2998556, 10 页:, 修订 A, 更新: 12/2011)


2
文档(Document)

Automotive Solutions
(文件大小: 790538, 15 页:, 修订 I, 更新: 03/2011)


3
文档(Document)

Automotive Solutions (Chinese Version)
(文件大小: 999611, 16 页:, 修订 I, 更新: 03/2011)

Other
No.
PDF
Description
1
文档(Document)

Programmer Support for Serial Flash Devices
(文件大小: 287541, 3 页:, 修订 D, 更新: 01/2010)